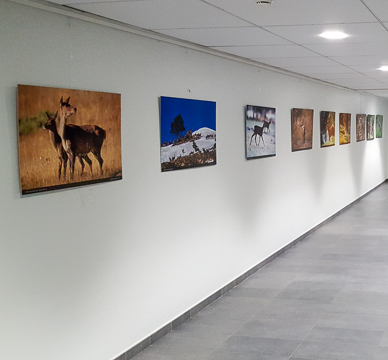 Wild walk in Pyrénées Mountains
Photographers (and employees) introduction
We are fond of nature and travel photography. Indeed, we love to discover new landscapes and cultures around the world. We have already visited more than 40 countries during the last 10 years.
Several week-ends during the year, at each season, we use to walk in Pyrenees Mountains. Between 1500 and 2500 meters above sea level, we look for wild animals. The challenge is to take pictures of interesting behaviour (rutting or birth periods for example) without disturbance and with good light conditions. Sometimes, the weather is snowing or raining, cold temperature or the hunting lookout is very long. We use specific equipment: camouflage clothes, professional Nikon cameras and lenses (full frame with 300mm f/2.8 and 500mm f/4) and pictures are post-treated with Photoshop Lightroom v5.
We have participated to some nature and photography festivals close to Toulouse, it's always a pleasure to discuss with others passionate people!